From a Mullingar classroom to 42k on the streets of Manchester – school teacher Jill Kiernan's fitness journey with Maurice Looby Fitness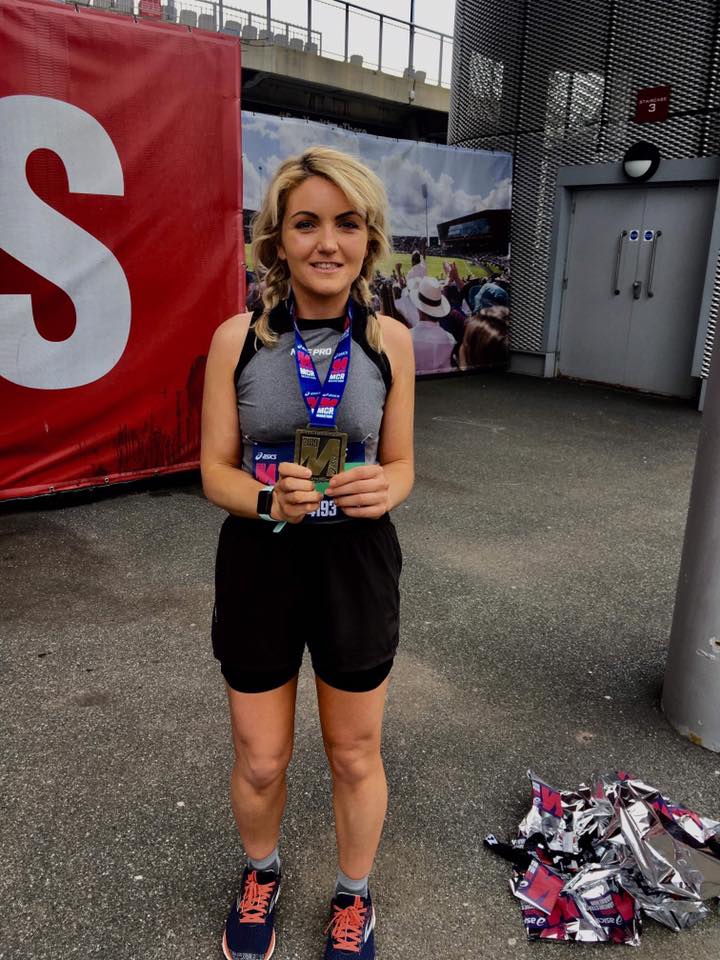 From a Mullingar classroom to 42k on the streets of Manchester – school teacher Jill Kiernan's fitness journey with Maurice Looby Fitness.
In January 2016 Mullingar primary school teacher Jill Kiernan made a new years resolution to quit smoking and lose some weight. Little did she think that just over 3 years later she would be running the full 42km Manchester Marathon. Only competitive with herself, Jill followed a personalised Maurice Looby Fitness training plan, and ran the race in a very impressive 3.28 – on her first attempt at the distance! Here follows an endearingly honest Q&A with Jill, charting her running journey…
Q: When did you start running and what motivated you to take it up?
A: I started running in January 2016. It was my New Year's resolution to lose weight and quit smoking. I was, at the time, drinking every weekend , and eating a lot of take aways and just didn't feel great mentally or physically. The same way people go to gym classes, I decided to go to an hour of running class. I went the first day on my own and everyone was so friendly and encouraging. I was by far the slowest person there, it happened to be "the timed mile" that day and I was delighted to run it in just under 10 minutes. Everyone was so nice and I felt great after it so I decided to go back the next week. I just wore Penney's runners and ran once a week for the first year but I looked forward to running with Maurice's group and was fortunate to make friends who I would consider amazing friends to have to this day. It was nice to run with people and share a common interest. People are so positive when they are jogging along having a chat. I loved the way I felt after a training session. I could be having the worst day ever, and then after training I would be on cloud nine. So my motivation to start was weight loss, but my motivation to stay was the people and the atmosphere.
Q: What other sports had you taken part in before?
A: Before running, horse riding was my main interest. However, I decided to change my job and become a teacher in 2015 and with that change came a change in salary. I couldn't afford horses any longer. I never actually thought about it before, but I suppose the great thing about running is it's free – you can just go outside and go for a jog.
Q: How many days per week do you run?
A: I ran my first marathon at the start of April. Leading up to this I followed a tailored plan in which I asked Maurice to incorporate 6 days a week running. I think 4/5 days a week would have been plenty but from a mental health perspective, I like to get out most days even if it's just 20 minutes as slow as possible. I just feel it helps me relax and unwind after work, or after an argument at home. My weekly mileage varies depending on what I'm training for and I actually have never even added it up because I just follow a plan from Maurice and take each day as it comes. Coming up to the marathon I would be guessing around 40/50k a week? (Maurice's note – Jill's peak mileage week was actually 80k, on week 14 of a 16 week plan!). But again, I leave all that up to Maurice. I actually just follow the plan and don't think about distance or speed. That's the great thing about having a coach – it allows me to just run and not think "am I running too much or too little? Too fast, too slow?" If I'm feeling tired one day, I'll just message Maurice and say I'm tired today, and he will say ok well instead of the 10k tempo on your plan just do 4k slow. It's great, Maurice never takes it too seriously, I always feel like the most important thing is: once I'm happy and enjoy the training!
Q: Do you find it easier to run with a group, or to run alone?
A: I prefer to run with others, it makes the time pass quicker and after every speed session we all always say: "you would never do that on your own", which I know I definitely wouldn't. I sometimes go for a run on my own, and that's for headspace or just time to think, which I love being able to do also. Sometimes I don't feel like going for a run, but I just meet a friend, go out for a short slow run and feel much better. The hardest part is getting out the door.
Q: What is your favourite, and least favourite race distance?
A: My favourite race distance is the half marathon (21km). I prefer the longer distances because you can go slower and just enjoy it. Although I've only ever ran one marathon so far, I did love that distance also; again I'm happy running long and slowing it down. Short and fast kills me.
Q: Please list your personal bests for:- 5k, 10k, 10 miles, Half Marathon, Full Marathon.
A: 5k = 20.10; 10k = 41.56; 10 miles = 71.11; Half Marathon = 1.33.54; Full Marathon = 3.28.44
Q: Have you any injury concerns?
A: I have had a lot of very bad falls off horses in the past. I've fractured vertebrae's in my back, broken bones etc. In 2017, I decided after my first half marathon in the March that I was going to run the Dublin City Marathon. That July I went from running 1 day a week to 5 days a week, every day as fast as I could. I thought, the faster I run the faster I will get. After 4 weeks of training I could barely walk, my back completely gave up on me. I took 6 weeks off running and was a frequent visitor to the Physio. It took me until this year to get the nerve to actually train for a marathon because I was apprehensive about my back, but I followed a plan from Maurice and kept the easy days easy, with recovery and slow runs being the prominent feature of the marathon plan. I was delighted during the 16 week training block that I never had one niggle or any aches or pains, or never felt the need to see a physio or go for any rubs over the 16 weeks, which I felt was a result of a plan tailored for me and worked perfectly for my training.
Q: Do you follow any nutrition guide or plan?
A: I don't follow any nutrition plans. I love eating out, and socialising over lunch and dinner with friends. Some days I want a salad, some days I want a pizza. I know a lot of people in different athletics clubs would say better nutrition would help my running, but that's what I love about running with Maurice Looby Fitness – we go and run a half marathon and stop in McDonald's on the way home. It's all about running for fun. I'm definitely not going to take it too seriously!
Q: Do you incorporate strength and conditioning into your training?
A: I don't do strength and conditioning. I did for 6 months before the Mullingar Half Marathon in 2018, but I hate the gym and hate being inside and I felt my legs were always tired from squats and deadlifts so I just gave it up. If I wasn't enjoying it, I didn't see the point of doing it. I know people say it helps prevent injury, but what works for me in preventing injury, is running the majority of my runs each week at 10 minutes per mile pace. Everyone is different, but personally I'm just not a person who enjoys strength work. I probably would see improvements in my running if I did incorporate it, but I'm just all about enjoying exercising so at this time I don't do it. Maybe I will in the future.
Q: What running achievements are you most proud of, and why?
A: The running achievements I'm most proud of all come from my training runs. There was one Saturday morning a few weeks before the marathon and my plan had a 15k tempo down on it, which is my least favourite training run. It was lashing rain, I was warm in bed with no interest in getting out and running for 15k in the wind and rain, but again, it's great when you have a plan, there is less internal conflict. It's just like; well if it's on the plan….so I dragged myself out of bed and went out and ran 15k at tempo pace and still am proud of myself, looking back, for doing that run. This year I ran Bohermeen Half Marathon, and before the start it was snowing heavily. I remember thinking; "I could just go home", but I ran it, so regardless of my time it was a huge achievement actually running the race, when beforehand all I wanted to do was go home.. But those are the runs I always look back on and am proud of myself for doing them because it would have been so easy to have just skipped them. Like that, I ran a 10 mile race in Trim this year after a hike the day before and a late night and I remember my legs were so heavy and sore and I was so tired I almost didn't run that race, but then at Manchester Marathon when I got to 16 miles with 10 miles left to go I just thought; well this last 10 miles will be a lot easier than that day at Trim, so if I could run 10 miles that day, I can run 10 more today! I suppose a huge achievement for me is overcoming the inner voices trying to talk you out of going training, but you always feel great after it's done.
Q: What are your running goals for the next 12 months?
A: To keep enjoying it. When I first started running I got caught up about personal bests, but now I'm just enjoying the training and getting out in the fresh air on a fine day and going for a run. The times will come, and if they don't so what, I'm a fun runner. I never want to stop enjoying running. I have no races planned yet for the future. I'm away now for a lot until September so the plan is to apply for the Boston Marathon in September. If I get a place, train for that, and if I don't I will hopefully do Manchester again next April and take part in a few races in preparation for that.
Q: Do you think there is a social aspect to running?
A: In my opinion there is a huge social side to running. I started with Maurice Looby Fitness on my own, and have made lifelong friends from the training groups. I love how people are genuinely supportive of each other and so positive and happy. We always have good fun at training and laugh and joke a lot. Even there are runners who run themselves or run with other clubs in Westmeath and would send me messages on facebook or Instagram saying "Well done today Jill, great run", or stop and have a chat after a race, which is so brilliant. It's nice to have that social side to running.
Q: Do you follow a Training Plan?
A: I always follow a running plan. It just makes it easier. I've only been running a few years, so I would be guessing if I tried to think up what runs I would need to do each week while training for a race. I love having a plan there and not having to think about it or motivate myself to get out running. Also I find on my plan a lot of the runs are nice slow paced runs. I feel like if I wasn't following a plan I'd feel like I should be running faster or longer, but I just trust the plan. at this stage Maurice knows me better than I know myself so if he says do something, I just do it and don't think about it. Another good thing about having a plan is that I find, with Maurice it's not just a plan, it's having a coach. There have been loads of times I have messaged him at all hours and said "Maurice I'm away now for 4 days so won't get any runs done", and he will just jig around my plan to allow for that change . It's never an issue, or he never makes me feel like I'm annoying him. I could send him a one line question and he will send me back an essay of an answer, which shows me how much he really cares and he wants me to succeed. Finally, I think the plan works for me for injury prevention. If it means investing $80 for a 16 week plan (which is only $5 a week) and saves me the time and money that I would otherwise have to spend on a physio or on rubs if I were left to my own devices, that's great value – the plan DEFINITELY works for me!!