Clifden Native, Olivia Cosgrove talks about her late start into distance running!!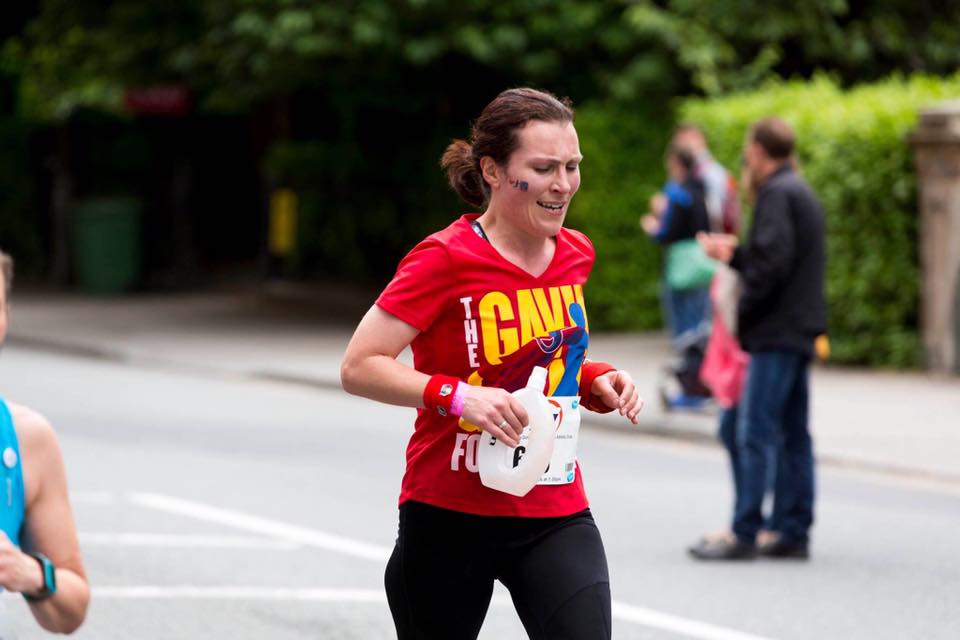 It is often said that the Irish are the most generous when it comes to charity. I remember after Live Aid, Bob Geldof live on the TV news excitedly saying how "the Irish are actually beating the English in terms of donations per capita" to the famine stricken of Africa. We are an altruistic nation and it's great to see people giving to those who are not so advantaged. Many people do this in the name of sport and exercise, which is a double PLUS!!
One such person is Clifden natives (now resident in Mullingar) Olivia Cosgrove. A relatively late starter to distance running, Mum of two, Olivia who works as a Researcher was motivated to start by the plight of sick children. This is her story…
Q: When did you start running and what motivated you to take it up?
A: I started running in 2015. I wanted to help support The Gavin Glynn Foundation for Childhood cancer and their first event was the Women's Mini Marathon, so I started training towards that. I remember my first run was to go back and over the Joe Dolan Bridge (about 600 metres) and it nearly killed me!! I kept at it tho, but I thought you had to go fast on EVERY run and ended up hurting myself. I hated running and couldn't understand how anybody would do this voluntarily! Once I learned that going slow most of the time is the best way to train, I found I really loved running. I did the Dublin City Marathon in 2016 and that was amazing – I was sold on marathons after that!
Q: What other sports had you taken part in before?
A: I played football, basketball, rugby at school, but did that classic thing of giving it all up when I went to college. Didn't really do anything at all until I started walking and going to the gym a bit.
Q: How many days per week do you run?
A: 6 days a week now, but started with 3 day and built on the days slowly over the years. It's a habit at this stage to run most days, so I don't even really think about it.
Q: What is your average weekly mileage?
A: About 30 miles I think per week – more when I am training for a marathon. (A lot more!) I am lucky that I recover from fairly long miles pretty quickly, so I tend to do long long runs. The best thing about having someone like Maurice make a plan for you is that it can really take in your strengths and weaknesses as a runner, which a generic plan off the net can not. So for me it was lots of long slow mileage which was my strength, with some other runs to push me out of my comfort zone, which I tend to shy away from. By getting a challenging but realistic goal to work towards, it made me realise what I might be capable of with hard work!
Q: What is your favourite and least favourite type of training?
A: Love my long slow runs, but I have a love/hate relationship with speedier sessions. They DO work though😆.
Q: Do you find it easier to run with a group or to run alone?
A: I tend to run by myself most of the time, as my other half is also training and I have a job and two kids so I have to go when I can. I am so used to it now that when I do run with someone I'm amazed how fast the miles go then. I go to speed sessions with Maurice once a week and have done since early 2017. Something tough like speed intervals or hill repeats are definitely made easier when you do it as a group. You have someone pushing you on and can have a bit of craic with. I really joined the group to make friends and was lucky enough to have made some good friends in the group over the years.
Q: What is your favourite race distance?
A: Marathon distance is my favourite. I love the training, even though it's time consuming. You are always learning something new each time, and having a coach means you can check in with this and add it to your training.
Q: Please list your PB's for:- 5k, 10k, 10 mile, Half Marathon, Full Marathon?
A: 5k – never did one!! (I will…someday😁) 21 something in training.
10k – 43.45
Half Marathon – 1.34
Full Marathon – 3.17.
Q: Have you any injury concerns?
A: Have been very lucky in not having injuries really. I do have some lazy glutes that I have to stay on top of, so that's where strength & conditioning is more preventative for me.
Q: Do you follow any nutrition guide or plan?
A: I try to eat as much unprocessed food as I can  so lots of good protein, veg and carbs. I don't believe in any overly strict diet rules – everything in moderation works for me. I try to eat well after hard runs as that helps me recover quickly.
Q: Whar running achievements are you most proud of and why?
A: I got to run the Boston Marathon this year and it was the most amazing experience – I never thought I would get there. But I am most proud of taking part in the local Royal Canal Marathon in 2018. It was eight laps of the canal, on a stray hot day in April (22 degrees!!!) and I fought with myself the entire way not to give up. I managed to finish it and I learned a lot about the mental side of running that day that has really stood to me.
Q: What are your running goals for the next 12 months?
A: I'd like to keep trying to improve. I am not so good at the shorter distances, so might look at working on that. My heart leans towards the longer stuff though, so might try a 50k or more in the future.
Q: Do you follow a plan?
A: Yes I love a plan. I have had several plans from Maurice over the last few years, and they have really helped me achieve my goals. He can tailor the plans around your life and can easily take changes into account along the way. It's also great having someone to check in with. Especially for marathons, I have learned to trust the process and the plan. It might be tough in the beginning, but it all does come together once you keep at it. Having someone like a coach who believes that you have the ability to run a faster time really helps you to believe it too. In running, belief that you can is 90% of the battle!
Q: And lastly…do you think there is a SOCIAL side to running?
A: Totally! For a sport that is really a solitary activity, there is a real sense of camaraderie in running that I don't think you get in other sports. From running with the group, to meeting people at races you really feel part of something.