H.E.L.P. Healthy Eating & Lifestyle Programme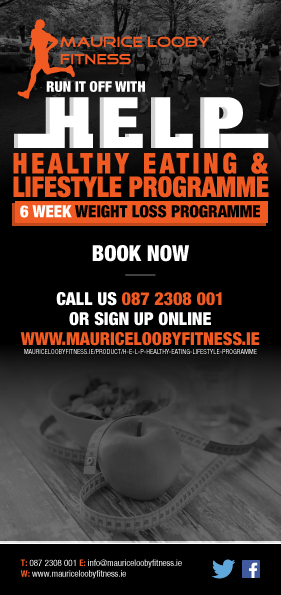 €210.00
H.E.L.P. Healthy Eating & Lifestyle Programme
6 week weight loss programme
*****Contact us now to book your start date *****
• One2one weekly meetings with our Nutritionist including an achievable diet plan.
• Weekly weigh in with full body composition and measurements
• A Fitness Training Plan specific to you & the level you are at
• Unlimited classes with Maurice Looby Fitness for the 6 weeks
• Access to private messaging advice from your coach throughout the 6 weeks
• Assistance & motivation throughout from your Nutritionist
Totally private & individual based programme. This programme is not a diet but a journey to rectify your eating habits
All of the above for €210
This programme has been carefully designed to help you achieve your goals around nutrition, weightloss, body fat & fitness.
Sign up now to start by clicking on the add to basket button below or call us now on 086 1282892 for more information
Copy and paste this URL into your WordPress site to embed
Copy and paste this code into your site to embed